Warning Spoilers through Blood in the Water.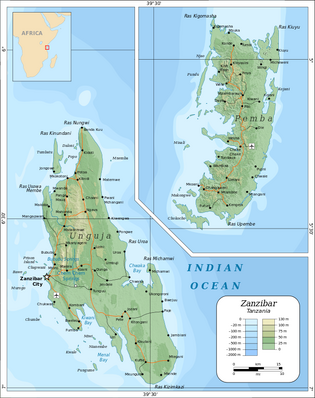 Zanzibar know to the Grik as the "Nest of the Jaaph Hunters" is an island on the east coast of Africa Nor-North-West of Madagascar. First mentioned in Distant Thunders as being ceded to the Jaaph Hunters by the Celestial Mother. Homeland of Hisashi Kurokawa's Japanese and Grik. The main Japanese naval base in Menai Bay and the main airfield on the south west corner of the island SOH HB. P. 1. It is probable that the small islands are joined somewhat and possibly to the main island due to lower sea levels. It is noted that the aircraft engine factory and Kurokawa's quarters are close to the airfield in Straits of Hell and they are camouflaged in the jungle.
Notable Inhabitants:
Edit
General of the Sea Hisashi Kurokawa, ruler.
General of the Sky Hideki Muriname head of Japanese Air Force.
Lieutenant of the Sky Lieutenant Iguri Muriname's XO.
Commander Riku Head Ordinance
Ad blocker interference detected!
Wikia is a free-to-use site that makes money from advertising. We have a modified experience for viewers using ad blockers

Wikia is not accessible if you've made further modifications. Remove the custom ad blocker rule(s) and the page will load as expected.