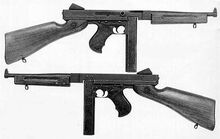 An unknown number of Thompson submachine guns were brought by the Destroyermen and appear in the series. Further information on this firearm see https://en.wikipedia.org/wiki/Thompson_submachine_gun.
Specifications M1/M1A1: Weight 10.6 lb (4.8 kg) empty, Length 32 in (810 mm), Barrel length 10.5 in (270 mm) 12 in (300 mm) (with cutts compensator)
Cartridge: .45 ACP (11.43×23mm), Action :Blowback, Blish Lock, Rate of fire 700 rpm Muzzle velocity 935 ft/s (285 m/s), Effective firing range 160 feet (50 m), Feed system 20-round stick/box magazine or 30-round stick/box magazine
Ad blocker interference detected!
Wikia is a free-to-use site that makes money from advertising. We have a modified experience for viewers using ad blockers

Wikia is not accessible if you've made further modifications. Remove the custom ad blocker rule(s) and the page will load as expected.