Taylor Anderson is the author of the Destroyermen series.
Taylor Anderson is his entry on Wikipedia.
His biography may be found on his web site: http://www.taylorandersonauthor.com/index/biography.html .
Three pics from Taylor's web page, first his monster you see when he posts on the Discussion part of his Blog. Second is Taylor sitting in a lawn chair. Third is Taylor aboard the USS Texas seen on dust jackets and inside rear cover of the paperbacks in colorful black and white.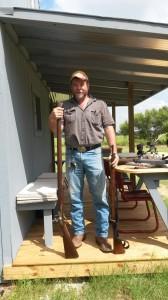 Gallery of Destroyermen Critter pictures by Taylor Anderson:
Ad blocker interference detected!
Wikia is a free-to-use site that makes money from advertising. We have a modified experience for viewers using ad blockers

Wikia is not accessible if you've made further modifications. Remove the custom ad blocker rule(s) and the page will load as expected.