Warning Straits of Hell Spoiler.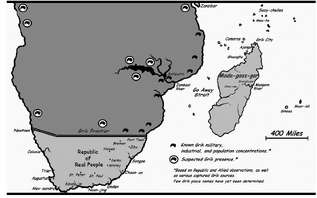 Sofesshk is the ancient capital of the Grik Empire, and is again the capital after the loss of the Celestial City [Grik City]. Located on the north bank of the Zambezi River. It's ancient palace of the Celestial Mother is called The Palace of Vanished Gods.
Located on the coast of a great inland lake Sofesshk is massive and is estimated to have a population of a million. The architecture of Sofesshk is also notable for being of higher quality than the ramshackle adobe structures found in most Grik cities.
Ad blocker interference detected!
Wikia is a free-to-use site that makes money from advertising. We have a modified experience for viewers using ad blockers

Wikia is not accessible if you've made further modifications. Remove the custom ad blocker rule(s) and the page will load as expected.