Warning Devil's Due Spoiler.
Operation Outhouse Rat
Date
Oct 24, 1944 to November 2?, 1944
Location
Zanzibar
Victor
Grand Alliance
Seen
Devil's Due
Protagonists
Allies
Grand Alliance
Antagonists
Enemy
Hisashi Kurokawa's Japanese/Grik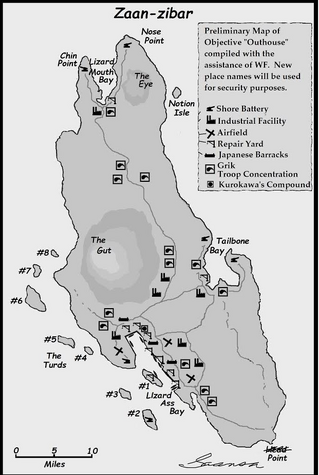 Operation Outhouse Rat the objectives are:
(1) Rescue of the prisoners taken from
SMS Amerika
. (2) Taking Kurokawa and the Japanese out of the war.
Operation Outhouse Rat:
1.)  P-40E floatplane reconnaissance by Lieutenant (jg) Saansa-Belkaa (KIA) Oct 24, 1944.
2.)  Dennis Silva, Laurance, Pokey, 3 Shee-Ree 'Cat crew, Stuart Brassey, and 10 Retillian Khnoshi land on Zanzibar on the repaired captured Zeppelin from Blood in the Water November 17, 1944.
3.)  Mining Lizard Ass bay south entrance by four ships November 20, 1944.
4.) Long range PB-5D Bombing started sometime after the mining say November 21, 1944
5.) Chak-Sab-At's Landing, Sea and Air attacks morning of November 23, 1944 finished by evening. 200 Japanese and 3,000 Grik prisoners captured, machinery and steel also captured.  Superdreadnought battleship Savoie and several other Grik units also captured. Note the withdrawl is not covered and must go past November 23, 1944
Ad blocker interference detected!
Wikia is a free-to-use site that makes money from advertising. We have a modified experience for viewers using ad blockers

Wikia is not accessible if you've made further modifications. Remove the custom ad blocker rule(s) and the page will load as expected.