Warning Spoilers through Straits of Hell.
Mangoro River
Seen
Straits of Hell
Type
River
Location
East coast of Madagascar a little over half way between Grik City and the southern tip of Madagascar, see map below.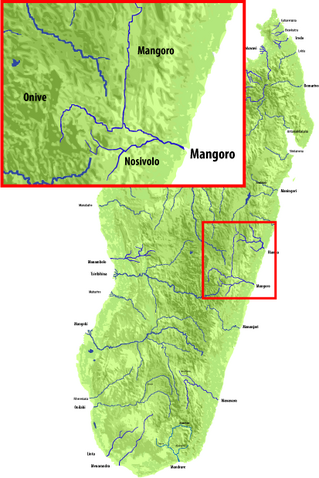 "The Mangoro begins northeast of the town of Anjozorobe in the Analamanga region, at approximately 1,100 meters. Its primary tributaries are the Onive River (which joins on the right bank at 200km from the river source) and Nosivolo River. Its mouth is at the Indian Ocean [Western Ocean] near the town of Ambodiharina. Owing to its many tributaries, the Mangoro maintains a high flow year round, making it an ideal river for rafting," from Wikipedia's description of the river in our world, https://en.wikipedia.org/wiki/Mangoro_River
In Straits of Hell Chack-Sab-At's mission to contact the Native Lemurians is tied to the shore of the Mangoro River in chapter 37.
Ad blocker interference detected!
Wikia is a free-to-use site that makes money from advertising. We have a modified experience for viewers using ad blockers

Wikia is not accessible if you've made further modifications. Remove the custom ad blocker rule(s) and the page will load as expected.