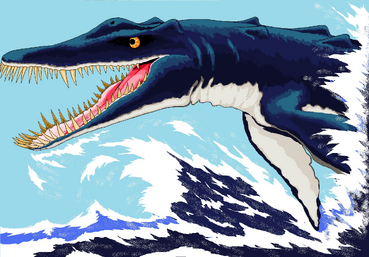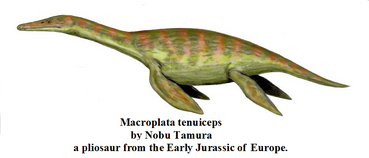 Spoilers through Deadly Shores.
Gri-kakka is the Lemurian word for the large air breathing reptiles, the whale analogs in the Alternate world. There are two types those with long necks and those with short necks. Hunting gri-kakka for their oil is the prime income source for trade by the Lemurian homes.
In Into the Storm Pliosaurs eat Japanese crewmen from the destroyer the American destroyers sank. The Destroyermen's first clue they weren't in Kansas any more. We are introduced to the Lemurians and their word for the pliosaurs.
Chapter 3 of Deadly Shores describes a long neck gri-kakka hunt near Madras.
Gri-kakka are mentioned in all books, but the discriptions of them is best in Into the Storm and Deadly Shores.
Walker's crew calls them "pleezy-sores;" the short necked one in painting is clearly a Liopleurodon-esque pliosaur. See http://en.wikipedia.org/wiki/Pliosauroidea for other photos and drawings and links to specific pliosaurs. Pleezy-Sore meat is often served in Walker's mess.
Ad blocker interference detected!
Wikia is a free-to-use site that makes money from advertising. We have a modified experience for viewers using ad blockers

Wikia is not accessible if you've made further modifications. Remove the custom ad blocker rule(s) and the page will load as expected.