Frigate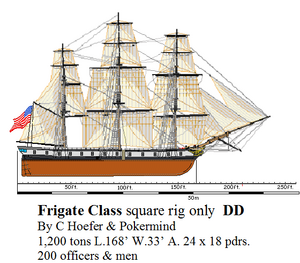 Frigate in Destroyermen means the three square rig DDs made in Baalkpan. Only USS Donaghey survives by Storm Surge.
The hull is 168 feet long, thirty three feet wide with an as built armament of twenty four eighteen pounders, twelve per side.
Crew 200 officers And men. They weigh 1,200 tons.
Ad blocker interference detected!
Wikia is a free-to-use site that makes money from advertising. We have a modified experience for viewers using ad blockers

Wikia is not accessible if you've made further modifications. Remove the custom ad blocker rule(s) and the page will load as expected.