Warning Spoilers through Straits of Hell.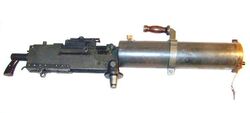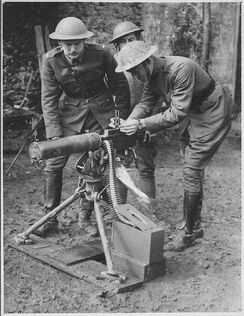 The Browning Machine Gun M-1917 is a fabric belt fed .30-06 450 round/min, 600 round/min for M1917A1, the first locally made copies were used in Straits of Hell. Several came with the Destroyermen, the water cooled version needs less robust steel than the air cooled version and was adopted. The weight of the MG tripod mount , water, and two Ammo cans is 103 pounds. More specifications see https://en.wikipedia.org/wiki/M1917_Browning_machine_gun
There is talk of making a stacked engined larger P-1D mounting two of the guns, and a larger PB-5D bomber using stacked engines see bottom illustration showing Taylor Anderson's Drawing.
Ad blocker interference detected!
Wikia is a free-to-use site that makes money from advertising. We have a modified experience for viewers using ad blockers

Wikia is not accessible if you've made further modifications. Remove the custom ad blocker rule(s) and the page will load as expected.