Warning Spoilers through Devil's Due.
Brad "Spanky" McFarlane was responsible for engines and propulsion of USS Walker. He was in the engine spaces when Walker entered the squall. At end of Rising Tides, he becomes the XO on Walker and 'Tabby' Tab At becomes the Engineering officer of Walker. Tabby has a crush on Spanky, who is unfortunately allergic to Lemurian fur.
In Blood in the Water Spanky and Walker were fairly inactive, he interacted with others when Matthew Reddy did.
In Devil's Due Spanky has to prevent Tabby and Isak from killing the representative of the boiler tube manufacture. Later he brings the news that the Grik will soon be on the move, and Santi Cat's determination to stop them.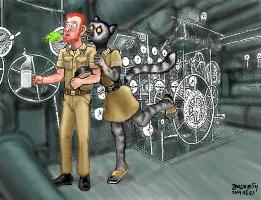 Ad blocker interference detected!
Wikia is a free-to-use site that makes money from advertising. We have a modified experience for viewers using ad blockers

Wikia is not accessible if you've made further modifications. Remove the custom ad blocker rule(s) and the page will load as expected.