Warning Rising Tides Spoilers.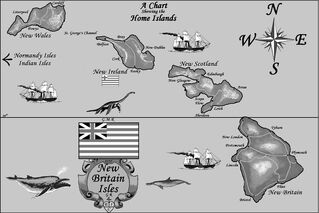 The Battle of New-Ireland was fought to remove Holy Dominion and the Honorable New Britain Company presence on New Ireland Island one of the home islands of the Empire of New Britain Isles. The battle began in November or December of 1943, and it Ended when Dennis Silva killed the last Blood Cardinal and a final battle took the last fort on Sunday January 8, 1944 the only date Taylor Anderson gave.
Ad blocker interference detected!
Wikia is a free-to-use site that makes money from advertising. We have a modified experience for viewers using ad blockers

Wikia is not accessible if you've made further modifications. Remove the custom ad blocker rule(s) and the page will load as expected.